The Irish Government recently decided to impose a 23% taxation charge on health supplements.  This seems to be a disappointing move but  perhaps we should view this step as an opportunity for self-empowerment.
Fortunately, for the present at least,( no doubt due to the massive response from the public and a number of petitions), the government has decided to hold off on imposing the tax until November.  One can view the tax as yet another hit against ordinary people and their freedom of choice, a win for the powerful lobbyists of the pharmaceutical companies, OR, one can see it as a prompt, an opportunity to really take responsibility for ones own health.
Food As Medicine
Eating a "rainbow" everyday, of fresh, in season, organic food will give you vitamins and minerals in a more easily absorbed form.  The body absorbs nutrients from food  more easily than from even the best commercial supplements.  We must remember as well, that vitamins and minerals are supplements – they are to supplement our diet not be our only source of nutrients. Deciding what to eat for ones health is a huge step towards tackling minor health issues and preventing problems occurring.
If problems do occur, then Nature is there to provide all we need to recover our health.  Thanks to sanitation  and urban planning laws of the late 19th and early 20th centuries, diseases that once killed thousands are now rare if they affect us at all.  Today's health concerns tend to stem from our modern western diet and life style and are easily avoidable if we eat well and turn to Nature's pharmacy when the need arises.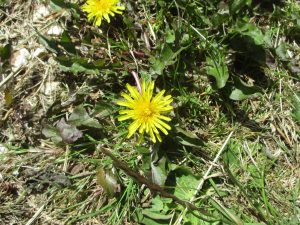 Herbs as Medicine
You only have to go outside and look around your garden to find medicine for YOU.  Yes, for you.  Mother Nature will provide you with exactly what you need.  At this time of year we can all find Dandelions, Cleavers, Nettles and other spring tonic herbs that will cleanse and tone our bodies and nourish us.  Nettles is one of the super-food herbs with an abundance of vitamins and minerals within it.  (See The Weed Handbook Volume 1, there are a couple left.)  These herbs can be eaten or cooked or turned into herbal teas and tinctures.  Many herbs are also great for digestion and improve our ability to absorb nutrients from food.
Opportunity
In Ireland we have a saying – Necessity is the Mother of Invention.  If in November, the government sneaks in the tax, some people who rely on their supplements or herbal remedies may find it difficult to afford to continue to buy them.  I suggest that before November we all learn to forage or grow our own healing herbs.  There are hundreds of native "weeds" waiting for us to remember that they are there, offering us help.  (More herbs are covered in The Weed Handbook Volume 2 which will be available from 22 March).
Go on a herb walk, sign up for a herb course, (there are several on offer on this website and digital ones coming very soon.)  Go into Nature and calm yourself, become quiet and see what is growing, learn to identify plants.  If you decide to harvest, it is important that you harvest responsibly.  Only take one or two plants from one place, NEVER take them all.  Take only what you will use and know why you are using it. ALWAYS give thanks.
Personally, I cannot stress enough the importance of self-responsibility and self-empowerment. It is surely part of ones self-esteem and self-confidence. Why would anyone want to hand over their personal sovereignty to someone else?   I want to know that I am able to look after my health and that I don't have to rely on someone else to do it.  I love connecting with Nature and using all of her resources to stay healthy and that very connection is health improving in and of itself.
Let me know how you look after your health and if you use herbs.  Which ones do you prefer?  Do you have any particular allies?