For twelve years I have been working with and learning about medicinal plants in my study of herbal medicine.  For the last seven years I have been learning from and journeying to plants and trees.  I am now fully out of the closet – I am a herbalist.  In today's corporate world, a world of fast medicine, to be a herbalist is to be a radical.
Herbal medicine is the medicine of the people and according to WHO, 80% of the world's population still uses herbal medicine.  And why wouldn't they?  It is free, safe and effective.  It may take a bit longer for someone to be up and about and at work again but shouldn't it take time for our bodies to heal?  We are, after all, human beings, not machines, so it surely stands to reason that rest, sleep, de-stressing, good food, time and herbs are going to be the best option for excellent health.
In England, and in Dublin, groups of herbalists have got together and are radically offering free health care!!  They call themselves radical herbalists because they believe they have to bring herbs back to the people, especially people who cannot afford health care. There are people, predominantly women, who are offering courses in herbal health care within their communities and on line.  Women like myself who want to empower people to be able to recognise a medicinal plant and know how to use it. There has never been a better time to be radical in this area.
Herb Robert
An entrepreneurial herbalist in America is selling T-shirts with the slogan -" I am a Radical Herbalist – a Culture Shifter!  Well I am too.  I stand up to be counted.  I believe something radical must happen and our culture must shift.  Our culture must shift from one of exploitation to reciprocity, where we work with Nature and not against her.  Hence the name change on the web site and the Facebook page, You Tube Channel and Etsy Shop.
My friend Colette wondered why I had different names on all these social media platforms and I agreed it was a bit daft.  I have, therefore,  chosen a name that I think is more specific to what I am doing. Danu's Irish Herb Garden is the new name. My postal address has been Danu's Garden for several years now and I am Irish and growing a herb garden so it feels right.  I work with the healing power of plants and this work helps me to feel closer to and connected with Mother Earth.  As I work to heal myself and others I am helping to heal the planet.
                                                                                                       Self Heal  
Danu is an Irish Mother Goddess or Earth Goddess and so I think the name is appropriate and a constant reminder to me.  I will be talking about Irish Goddesses in a future blog because a lot of other goddesses in Ireland are also associated with healing but for today I will tell you what I can about Danu.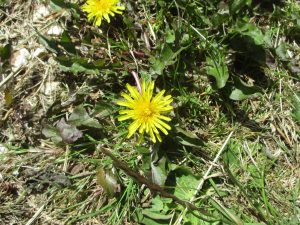 Dandelion    
Danu is a mother goddess, the Mother Goddess, of Ireland.   The hierarchy of gods known as the Tuatha De Danaan – the children of Danu – all stem from the goddess Danu as her husband is not known by name.  Danu can be said perhaps,  to be the gaelic equivalent to Demeter, a goddess of the earth and of abundance.  Peter Berresford Ellis, Celtic historian, says that the name Danu means "Waters from Heaven" and of course, water is life.  Water enables food to grow.
Danu's children went on to become the gods and sovereign goddesses of Ireland.  Eire is one of the daughters of Danu so you can understand why I feel Danu is a Mother Godddess I can have an attachment for.  I think it is important to be cognisant of these parts of our history so that we respect this land.
So, dear readers, in future you can find me at www.danusirishherbgarden.com.  My Etsy shop is DanusIrishHerbGarden.  The Facebook page is Danu's Irish Herb Garden and the brand new You Tube Channel is also Danu's Irish Herb Garden.
Thanks to everyone for subscribing to this web site and blog.  Any comments or queries are welcome in the comments box below.  Blessings!